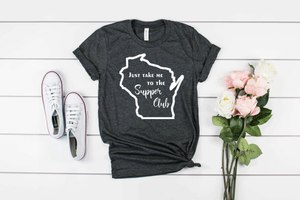 It's a Wisconsin staple that we all know and love...the classic Supper Club. When I was a child, I loved going to the supper club with my grandparents and eating off the relish tray and enjoying a virgin grasshopper after the meal. Now I still love going - mainly for the Old Fashioneds and the cheese and crackers in the bar while you wait!

We are offering this Just Take Me to the Supper Club design in a super soft, tee. This design is on a dark heather grey but we can do many other colors - including Wisconsin Badger red and grey and the Packers green and gold. Just ask if you would like a different color combo. We also offer this design in youth and toddler tees and infant onesie sizing - just look in our shop for these listings.

This shirt is a nice 52% cotton/48% polyester blend. Other colors could be a different fabric blend.